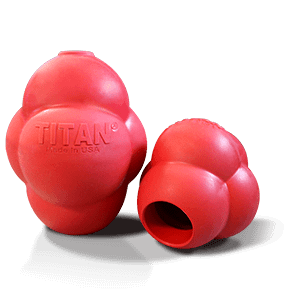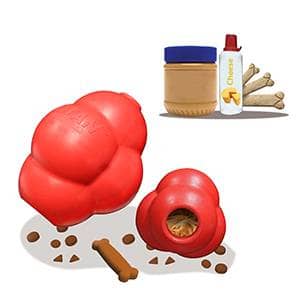 Medium busy Bounce

Medium Dog Toy in Packaging
Busy Bounce with Treat

Busy Bounce is Stuffable

Fill Busy Bounce with Treats
Recommended for Large Dogs: 30-65 lbs.
Titan Part Number: 330003
Made in USA
Toy made from safe rubber
Durable: Stands up to biting and tearing
Stuff with your dog's favorite treats to prolong play
Erratic bounce keeps dogs on their paws
Dishwasher safe
Buy Now
Description
It's time to get busy…with the Titan® Busy Bounce. This durable, ingenious, and multipurpose dog toy keeps your dog's mouth and mind happily occupied when alone and primed for play when you're home.
Your dog's safety is our top priority. Proudly made in Wisconsin, USA, we guarantee a safe rubber toy. In other words, every Busy Bounce that ends up in your dog's mouth or between their paws is designed to be there.
The patented Busy Bounce shape creates a unique experience as that of your very own fur child's personality:
1.) The erratic bounce stimulates mental agility and increases the challenge during play. Pick it up and give it a toss. You'll understand what we mean…
2.) Did someone say treat? Stuff with treats for a relaxing snack, a self-guided tour around the house nosing the toy to release kibble, or freeze for extended leisure.